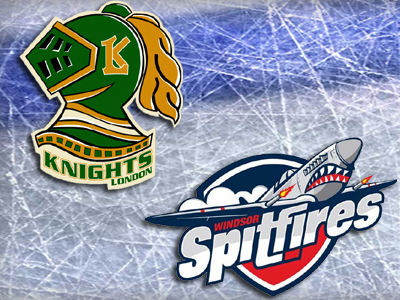 Windsor - November 23, 2014 - Mitchell Marner and Max Domi led a first period onslaught, as the London Knights scored early and often on their way to an 8-2 win over the Windsor Spitfires at the WFCU Centre on Saturday night.

Both Marner and Domi, who reside in the Top-5 of the OHL scoring race, scored twice and added an assist in the opening 20, as the Knights took a 4-0 lead to the room.

That's all the offense London (15-8-0-0) would need, thanks to a 41-save effort from Tyler Parsons.

Marner added his third of the night on the power play in the third period - marking the fourth time this month the 17-year-old left winger has had at least three in a game. It was also the second time in as many visits he has left the WFCU Centre with a hat-trick this season.

Owen MacDonald (3,4) and Aaron Berisha (8) has the other goals for the visitors.

Alex Fotinos replaced beleaguered starter Brendan Johnston after Berisha make it 6-0 at 8:54 of the second period. Johnston made 10 saves on the 16 shots he faced.

Fotinos made 10 saves in relief.

Hayden McCool (5) recorded his second goal and fifth point in four games since coming to Windsor (7-14-1-0) from Niagara in the Josh Ho-Sang trade earlier this month.

Liam Murray scored in the game's final minute, his first OHL goal.

The Spits are back at it with a rare Wednesday game this week in Plymouth, followed by a return visit from the Whalers Friday and a trip to Saginaw on Saturday.


SCORING
FIRST PERIOD
5:01 LDN Marner (19) (Rupert, Domi) PP
8:16 LDN Marner (20) (Jamieson, Dvorak)
10:54 LDN Domi (11) (Marner, Bergman) PP
19:48 LDN Domi (12) (Mete)

SECOND PERIOD
6:01 LDN MacDonald (3) (Nother, Crawley)
8:54 LDN Berisha (8) (Dvorak, Marner) PP
13:02 WSR McCool (5) (Povorozniouk, Doggett) PP

THIRD PERIOD
6:20 LDN Marner (21) (Domi, Bergman) PP
18:31 LDN MacDonald (4) (Domi, Jamieson)
19:34 WSR Murray (1) (Soberg, Burns)

SHOTS ON GOAL
WSR 9-17-17=43,LDN 11-8-7=26

POWER PLAYS
WSR 1-for-4, LDN 5-for-7