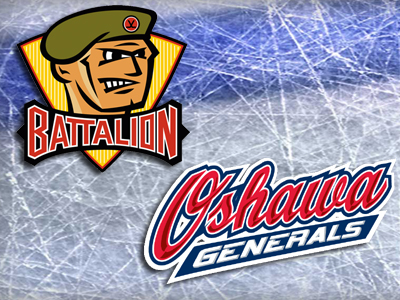 Oshawa - April 18, 2014 - The opening game of the OHL Eastern Conference Final was a hard one to watch for many of the Oshawa Generals' faithful. Playing against a bigger, stronger, faster North Bay Battalion team, the Generals lost 1 - 0 on home ice on Friday night.

The loss was the Generals' first loss in nine games of this 2014 OHL Playoff season. The Generals opened the game with some hard hits and high intensity against North Bay, setting a physical tone. However, the intensity did not last for long as the Generals were outworked by a more determined Battalion squad. Battalion forward Nick Paul scored the game winner with less than five minutes in the third period on a nice individual effort, fighting off Generals' defenseman Chris Carlisle as he flipped the puck past Daniel Altshuller.

Altshuller was the sole reason this Friday night contest wasn't a blowout as he backstopped 50-of-51 saves. Altshuller needed to make numerous highlight reel shots. His opponent, Jake Smith only had to face 24 shots by the Oshawa Generals. "Jake's been solid all the way through the playoffs. He's kind of an unsung goalie, not drafted in the National Hockey League. He's a competitive athlete", quipped Battalion head coach Stan Butler during a post-game interview.

The contest had some nasty on the part of both teams as there were various late hits, stick infractions and colourful language. This series will last at least six games. The two teams solved nothing during the OHL regular season as they split a four game, head-to-head matchup.

OHL Coach of the Year, Generals' own, D.J. Smith admitted that their opponents have "alot more depth than the other teams we've faced" in these 2014 OHL playoffs. During the post-game interview, Smith said, "we didn't have great legs tonight. They were always one step ahead of us." Oshawa will need to stay out of the penalty box as they made a steady trip to the sin bin in the second period, only to be saved by their goaltender. Oshawa rookie sensation, Michael Vande Sompel and teammate Aidan Wallace were excellent on the penalty kill as their top-end speed proved to be a thorn in North Bay's power play all night long.

Generals' captain Josh Brown appeared to be quite solemn during the post-game interview. "We got away from our game plan. We let up way too many shots. We left our goalie out to dry". Honest words from a hard working defenseman.

Oshawa will need to tighten up on defense for game two on Easter Sunday when the two teams faceoff at 6:05 p.m. at the General Motors Centre. Generals' assistant captain, Scott Laughton makes his return on Sunday, fresh from a three-game suspension he received in the Peterborough series.

For the love of the game, I remain, Dean Eastman.