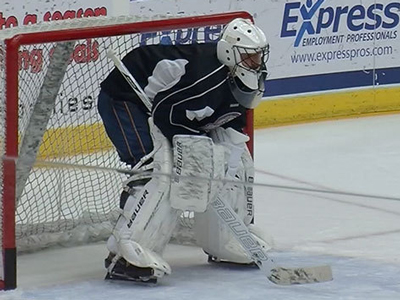 Edmonton - November 12, 2013 - This past weekend was a very interesting one in the world of the Edmonton Oilers.

Not surprisingly, they lost two more hockey games. One coming at the hands of the defending Stanley Cup champs and the other against what has been just a dreadful Philadelphia Flyers squad.

However, the moves this organization decided to make prior to their afternoon tilt in the City of Brotherly Love, were more than a little perplexing.

Everyone in the hockey world knew Oilers GM Craig MacTavish was looking to shakeup his club, in hopes of getting them out of their "early season funk".

Not exactly sure how you accomplish that by removing one of the few proven NHL blueliners on the roster in Ladislav Smid but we already covered that one at great length.

As far as move #2 went, it was by no means a shocker but it most certainly turned some heads...especially when coupled with Smid's trade to the Calgary Flames for absolutely nothing that could help this team in the here and now. Ilya Bryzgalov has been linked to the Oilers since the 2013 NHL Entry Draft but to be perfectly honest, at this stage of the game, is the Russian netminder really an upgrade over Devan Dubnyk?

The former second round pick of the Anaheim Ducks has had his fair share of ups and downs throughout his NHL career but has never come close to posting the sort of numbers he did during his four year stint with the defensively sound Phoenix Coyotes.

Bryzgalov was good with the Ducks as Jean-Sebastien Giguere's backup and considering the circus surrounding his ridiculous nine year/ $51 million deal and the fact the Flyers blueline has been absolute garbage since losing Chris Pronger, he really wasn't as bad in Philly as some made him out to be. Having said that, the fact no one took a flyer on him after Philadelphia bought him out, should speak volumes.

With that being the case, how exactly is this guy supposed to be the answer in Edmonton? Make no mistake, Dubnyk has been brutal to start the season but thinking Bryzgalov will step in and suddenly fix the Oilers goaltending woes, is nothing more than wishful thinking. Let's not forget, Dallas Eakins' current backend is arguably worse than anything the former Olympian has ever had to play behind during his NHL career.

Regardless of how the enigmatic puckstopper performs on the ice, he will not be a member of the Edmonton Oilers in 2014-15. At thirty-three years of age, Bryzgalov is clearly on the downside of his career and not the sort of goalie one would think MacTavish would seriously consider signing to a multi-year deal. It's one thing to a sign a veteran netminder with a winning pedigree but it's quite another to ink a guy who has had very little team success and been rumoured to have been not the greatest of teammates in the room.

Not exactly a good fit for a young team moving forward and hell it may not even be a good fit for the rest of this season. Perhaps Bryzgalov comes in with a bit of a chip on his shoulder and something to prove. If nothing else, his presence alone could help push Dubnyk to be better, which really should not be necessary, but apparently it might be.

In the end, outside of the financial cost of bringing Ilya Bryzgalov on board, the risk is minimal to the Edmonton Oilers. Craig MacTavish is well aware of the fact he needs to upgrade his netminding prior to next season and in my mind, he has no one in house he would seriously consider for that role.

After all, even if Bryzgalov came to town and played lights out, you can bet on him not wanting any part of staying in the "North Pole" for any length of time.